For many, art journaling is more than just putting color and words to paper. I have found art journaling to be a very spiritual practice, and it's something that I hold close to heart in my life; so I wanted to share with you a short, fun video which sums up why I art journal and why I believe you should too…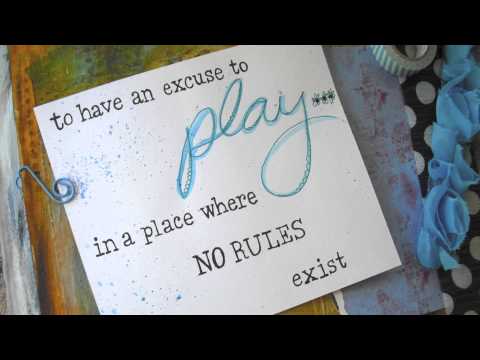 (click here if you can't view the video)

 
I believe that art journaling is the number one way to set your creative spirit free and (re)connect with your Soul. It allows you to express yourself and experiment with your creativity in a personal, safe environment where no rules exist.
Once you get past the initial fear of the blank page staring back at you (yes, I will be covering that in a later lesson!) you'll be able to spill open and create with such freedom that it allows you to find the clarity and self awareness you didn't even know you were searching for.
It helps you to exercise your creative muscles without fear of ruining a canvas or other expensive mediums you may work with. Art journaling allows you to experiment with your creativity in a way that never inhibits you. It gives you permission to play and make mistakes. It is such an inexpensive, quick activity that it becomes the perfect tool for keeping your creativity flowing.
And as I've said before, art journaling for me is like a meditative practice; as I'm sure it is for many others as well. I get lost in it, completely engrossed in it. In a way, journaling makes time stand still. It stops your "monkey mind" and forces you to focus on what you're doing. It's an amazing experience to get lost in.
Over the years, art journaling has become more and more an important part of my life. I have found it to be the only dedicated ME time that I can muster up, and it has become essential to my happiness in this busy bustling life!
 


Why do you art journal (or want to)? Please share it with us in the comments.


Resources:
My video was inspired by Junelle's "Why Art Journal?" video.
This "Creative Journaling" video is also amazingly inspiring!
 
Want to learn more about art journaling?
Check out my free introductory e-course
"
Art Journaling 101
".